Melech Mechaya began 2015 playing in two of the main temples of music in their homeland Portugal, Casa da Música, in Oporto (Friday 17th), and Centro Cultural de Belem, in Lisbon (Friday 23th), showing their career has made them worth to be prophets in their own land, and with a new videoclip, for the track Espírito Livre.
"This was the best concert ever in my life!!"
Berat Kamali, who attended the show by Melech Mechaya in Lokeren, Belgium, on 18/Oct/2014
Public on day 17th of January (Porto), 23rd (Lisbon) and 24th (again in Lisbon) from the stage.
"Melech Mechaya means in Hebrew "the party kings" and, after attending the concert of presentation of their last album, we could translated it as the band that "call the shots" or that "rule the roost", because one of the main virtues of this quintet is to take the public where they want". Fernando Martínez, at DiarioFolk, about their last concert in Madrid, on 29th of March at Sala Penélope
---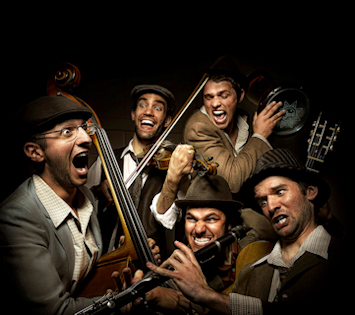 Melech Mechaya was founded in 2006 in Lisbon, with the same line-up than the current one: Miguel Veríssimo on the clarinet; João Graça on the violin; André Santos on guitar; João Novais on double bass and Francisco Caiado on percussion.
Since their beginnings they have mixed traditional tunes and their own compositions, always with a personal approach that manages to combine the great beauty of the compositions with a fresh and lighthearted attitude that comes to the live performance in a surprising and exciting way. Their music has been described as a kind of modern folklore.
Up to now Melech Mechaya have been playing non-stop in their homeland Portugal, and have performed more than 40 times in Spain, and they have also been playing in countries as different as Croatia, Cape Verde, Brazil, Sweden, Finland, Belgium, Austria and Germany, playing both in large open air festivals and in theatres, metro stations, historic buildings… always wrapping the audience around their little finger and captivating the specialised press.
Links:
Videos: